astech electrical

– Registered Electricians Auckland
Are you looking for an electrician that will turn up, is punctual, returns your calls, cleans up after themselves and carries out smart, safe electrical work?
As one of Auckland's leading domestic, commercial and solar electrical companies, Astech Electrical know that your satisfaction is paramount to their success. If you're happy, the lights are on and all is powered up, they're happy.
The highly charged team of registered electricians at Astech is able to help you with a wide range of electrical projects. Their experience covers commercial, high-end residential, solar (PV) and industrial electrical work. Astech Electrical has a reputation throughout the Auckland region for being professional, prompt and personal.
Andy and Steve started Astech over 20 years ago and with the support of Ash and Tulson (Electrical Supervisors) they have successfully built the company up to be the business it is today.
It's Our Job to Support Your Job
Tired of waiting for tradespeople? Astech electricians turn up when they say they will and they keep you informed about your job.
Do you get annoyed when asked to pay for work you didn't know was going to be done? If a task requires more work, or there are some things that could be of benefit to you, these registered electricians will talk with you before powering ahead.
You have a business to run, a job to go to, a family to organise. You're busy. You don't want to waste time or clean up after someone. Whatever the job, Astech will work with you to provide minimal disruption to your business, workplace or home. Respect means that the Astech team not only carries out the work to the highest standard, but also tidies up afterwards.
You have people counting on you to look after them; you can count on Astech to look after the electrical systems in your home or business and to keep the people in them safe. The workmanship from the Astech team will be to the highest industry standard. Being active members of the Master Electricians (Electrical Contractors Association of NZ) ensures full industry compliance and the most up-to-date practices followed.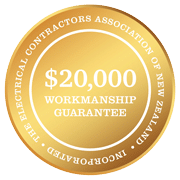 Electrical Safety Is No Accident
Electrical safety is no accident. Health and Safety is of high importance to all of team at Astech Electrical and the culture within the company reflects this. At regular meetings with staff, H&S best practice is always first on the agenda.
You won't be left in the dark. For Astech's valued clients there is an emergency service. No matter what the issue, an on-call electrician is only a phone call away 24/7.
Electrical Solutions From Inception To Completion
Call now for total electrical solutions for residential and commercial clients. Prompt, personal and professional service from Master Electricians, ASTECH are the registered electricians Auckland calls for solar power and all electrical repairs and maintenance.